The Merry Widow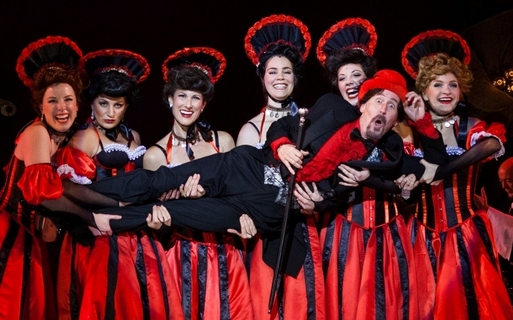 Dec 19 - 31, 2014 - Light Opera Works, Evanston, IL
Reviews
"
The acting star of the evening is Brian Rooney. Rooney's Njegus took me by surprise in his big number in the last act. It was as close as any of the principals came to capturing an actual character, and he held my attention from first to last by his subtlety, energy and wit."
Bill Sweetland – NewCity Stage
"
Rooney
's third act vaudeville performance keeps the show fun even as it approaches its third hour."
Jacob Davis – ChicagoCritic
"And, a welcome addition to this company's stable of comic musical character actors,
Brian Rooney
makes a very funny, memorable Njegus, the Embassy Secretary and Baron Zeta's right-hand man."
Colin Douglas – Chicago Theatre Review
"Stand-out among the various comic characters at the embassy is a nebbish-like clerk named Njegus, brought to hilarious life by
Brian Rooney
. His number in the final act lights up the stage."
Dorothy Andries – Evanston Review
"
Brian Rooney
's switch from the Baron's timorous clerk to the razzle-dazzle MC at Maxim's was memorable."
Wynne Delacoma – Chicago Classical Review
Sweet Smell of Success
(Click Photo for a Video Promo Clip)
Jan 11- Feb 2, 2014 - Kokandy Productions at Theatre Wit, Chicago
Reviews
"with powerhouse
Brian Rooney
capturing every essence of what the role of JJ Hunsecker should be (and far better than nice-guy Lithgow's turn a decade earlier).
Rooney
is convincing as a not-to-be trusted newspaper wag who believes his outreach to 60 million readers everyday gives him the right to control everything and anyone within his reach."
Philip Potempa - NWI Times
"
Brian Rooney
is pure evil and contempt as JJ Hunsecker and a powerful,
impenetrable nemesis to . . . Sidney."
Colin Douglas - Chicago Theatre Review
"The cast includes some very large voices—especially lead(s)
. . .
Brian Rooney
as J.J. Hunsecker"
Amy Munice - Splash Magazine
" . . . well-presented by a first-rate cast, led by the outstanding . . .
Brian Rooney
as the uncompromising Hunsecker."
"
Rooney
might be slight in stature, but damn if he doesn't make you quake in your shoes."
Bob Bullen - Chicago Theatre Addict
". . . J.J. Hunsecker . . . played with reptilian menace by
Brian Rooney
"
Hugh Iglarsh - NewCity